Air'Hockey
Air'Hockey is a dual user multi-touch competitive game for Windows® 10, 8 and 7.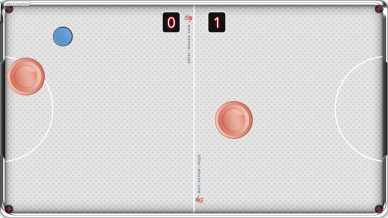 Air'Hockey is an updated version of the classic family favorite. Two players pass and deflect the hockey puck, playing offense and defense simultaneously. The score is displayed on the virtual hockey field, and the first player to score 10 goals is the winner.


- 2 players
- Real time scoring
- Game over when one player reaches 10 goals

- A classic game that everyone already knows how to play
- Sense of nostalgia, fun for adults and children
- Energized greeting spaces
- A modern image of the company
Air'Hockey can be used in amusement parks, arcades, waiting rooms, lounges, etc.
Air'Hockey is ready-to-use and compatible with hardware running Windows® 10, 8 and 7 (touch screen units, screens, laptops, PC tablets, walls, etc.).
1 single license per hardware support.
The AFTER-MOUSE.COM logo is displayed in the application and shall not be removed.
A touch screen (tablet PC, screen, wall, laptop, etc.) responding to a minimum of 2 touches and running Windows 10, 8 or 7 is required for the use of this application.

?
?